Online Training Course: Generator Grid Connection Process in Ireland
Venue

Online

Date

May 5th 2020

Time

9:00 am - 1:00 pm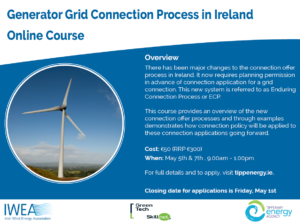 Course Overview
There has been major changes to the connection offer process in Ireland. It now requires planning permission in advance of connection application for a grid connection. This new system is referred to as Enduring Connection Process or ECP.
This course provides an overview of the new connection offer processes and through examples demonstrates how connection policy will be applied to these connection applications going forward.
Course Objectives
The learning objectives include:
Background on the operation of the Irish Electricity System
Gain understanding of the new connection offer process in Ireland
Gain understanding of connection policies to determine connection method, connection costs and ongoing grid factors and costs.
Gain understanding of the connection offer documentation
Who should attend
Developers, consultants, legal advisors, financial investors, equipment suppliers and contractors for new renewable generation projects in Ireland.
Course Content
The sections within the one-day course will include:
The Irish Electricity system and its operation
Generation on the Irish Electricity System
Connection Offer Process – ECP1, ECP-2 and beyond
Dedicated and shared connection examples
Ongoing grid costs and factors
Overview of Constraint and Curtailment
Course Trainers
Rory Mullan has been working in the Irish electricity industry since 1998. Prior to becoming a senior consultant, Rory has a background of working in commercial and technical roles in NIE, ESB and EirGrid. Rory is a member of the IWEA council and has been chairperson of the IWEA and the NIRIG grid committees. Rory is also a member of the ISEA grid committee. Through his roles in the renewable trade associations he has been at the forefront of the development of connection policy over the past ten years.
When
The 1 day course is split over 2 half days. May 5th and 7th from 9.00am – 1.00pm
Cost
Thanks to the Irish Wind Energy Association, this course is heavily subsidised. The usual cost of this course is €300 but is now available for only €50. Please note this price is only available by applying to the Tipperary Energy Agency, it is not available on the IWEA website.
Criteria and Apply
To be eligible to take part in this online course, you must meet the below criteria;
1 person per community group
Your community group must be either an SEC or give details on what community energy project you are working on
You must not be employed in the sector, please confirm this by outlining your existing profession
To apply to take part in this online course, please email stephanie@tippenergy.ie and include details on how you meet the above criteria. Closing date for applications is Friday, May 1st.