Tipperary based architects Walsh & Walsh have won a national design competition for the best energy efficient home extension and renovation, scooping the €3000 prize fund. The competition was an initiative of 'SustainableTipp', which is supported by Tipperary County Council and Tipperary Energy Agency to raise awareness about how Nearly Zero Energy Buildings (NZEB) can contribute to the lowering of carbon emis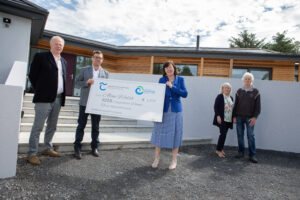 sions and support sustainability.
The winning design is an extension and compete retrofit of a 1940's cottage. The home is located in a rural area near the Comeragh Mountains outside Dungarvan, Co. Waterford.
The winning architect Alan Walsh said "We're delighted to win this design competition, especially as it involves practical low-energy buildings, something we have a passion for. I can't emphasise enough the importance of passive principles and NZEB requirements and the advantages they present. These principals are not complicated, and good fabric design, airtight construction and designing out cold bridges will get most projects near compliance. Time and care are needed to coordinate sub-contractors. However, the more it becomes standard practice, the better our domestic housing stock will be. It benefits us all to live in energy efficient and comfortable homes".
Important elements of the design for the judges included the NZEB (Near Zero Energy Building) design and construction principals, including carbon and energy performance in line with Part L of the building regulations. Judges in the competition included Declan Daly, Programme Manager at Electric Ireland SuperHomes, and chartered architect, Elisabeth O' Brien, Project Manager at the Limerick Institute of Technology campus in Thurles.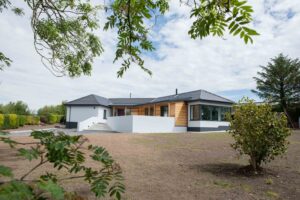 Marion O' Neill, Senior Executive Officer, Environment and Climate Action, Tipperary County Council said 'The Council is very supportive of energy-efficient homes as an important part of our transition to a low-carbon society, and this competition is part of a suite of collaborative actions and measures to help our communities address and adapt to climate change. Our main aim was to help create awareness among homeowners and designers of how our existing homes can be upgraded to become more energy efficient and comfortable'.
Sustainable Tipp is a collaboration of public, private and voluntary organisations working to achieve a sustainable and low carbon future. This design competition was launched by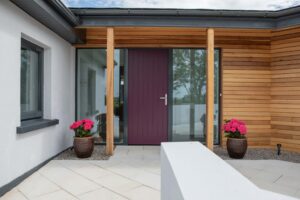 Sustainable Tipp' in late 2019, at a national event in Thurles, and was open to homeowners and designers to enter and attracted entries from all over Ireland.