Design Competition for NZEB Home Extensions is Launched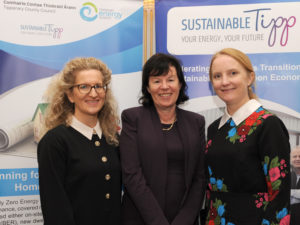 A design competition for energy efficient home extensions was launched at an NZEB (Near Zero Energy Building) conference in Thurles today.  'Sustainable Tipp' is now accepting entries for the best design of a home extension to NZEB standard.  There is a €3000 prize fund for the best designs.  'Sustainable Tipp' is a partnership of stakeholders lead by Tipperary County Council and Tipperary Energy Agency. Its objective is to achieve a low carbon economy by and on behalf of the citizens and communities of Tipperary.
<br>
"The need for climate action is an important challenge facing Ireland and the delivery of homes with a nearly zero energy requirement will bring many benefits in the form of warmer homes, local economic development and lower emissions.  We're launching this exciting design competition today for the best extension of a home to Near Zero Energy Building standard; this is a great way for 'Sustainable Tipp' to promote the sustainable extension and upgrade of homes" said Marion O'Neill, Senior Executive Officer, Tipperary County Council.
We are delighted to have Sefbuild Ireland on board as Media Sponsor for the competition.

<
The competition is open to designers and homeowners nationally that have designed or added an extension to NZEB standard.  Judging will be on the plans and  details  submitted to sustainabletipp.ie.   Winners will be  announced  in  Autumn  2020.  Closing date for entries is July 31, 2020. The judging parameters and terms & conditions are all available on
here